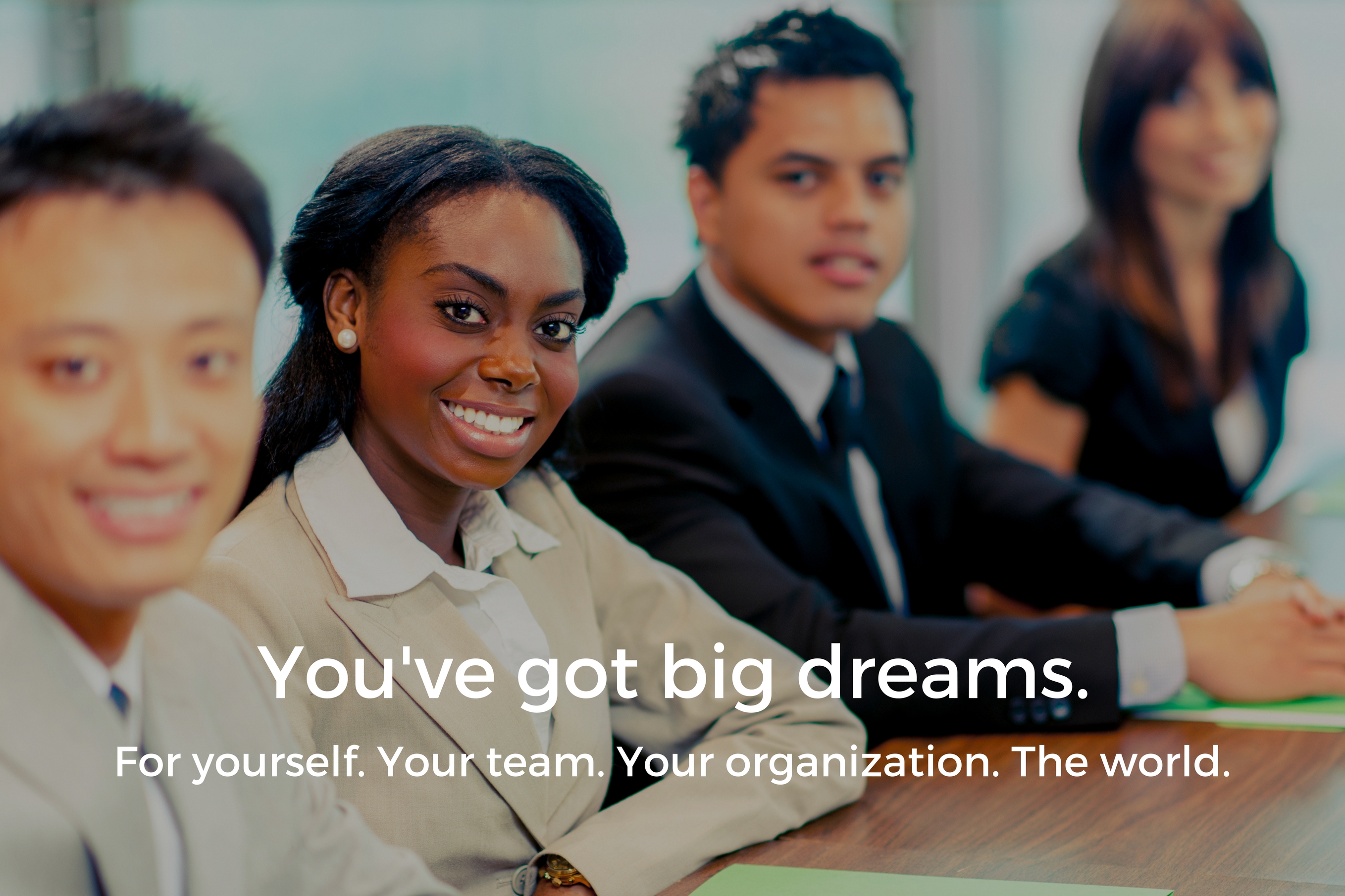 Dare to become the nonprofit leader you know you're meant to be.
Apply to be one of just 10 newly-appointed or emerging nonprofit executives who will be invited to join the 2022 class of the NonprofitCoach™ Global Leaders Fellowship. This exclusive leadership development program is designed for the world's best, brightest and most determined social sector leaders—inspiring young leaders just like you!
The Global Leaders Fellowship is a rigorous, six-month leadership coaching program that blends monthly one-on-one coaching for each fellow with monthly group coaching for the entire class. This means you'll benefit from both a highly-customized program addressing your unique leadership challenges as well as the opportunity to engage in coach-facilitated development activities with an amazing group of peers from around the world.
Sharpened self-awareness and self-confidence as a leader.

Renewed passion and clarity of vision.

More time to focus on your biggest goals and challenges.

Strengthened ability to plan, prioritize and execute.

Increased capacity to inspire and unlock the potential of your team.

Greater courage to lead with backbone as well as heart.

Heightened performance and a shared sense of accomplishment.

Lasting ties to a global fellowship of like-minded peers.
Expect a challenge.
The Global Leaders Fellowship is an intense six-month leadership development program designed to raise the bar for high-achieving young leaders like you. As a fellowship recipient, you'll take on tough but transformational work—DARES—both alone and together with your peers.
Dream.

You'll be challenged to dream bigger than you've ever dreamed before—committing to an inspiring vision and seemingly impossible goals for yourself, your team and your organization.

Act.

You'll be challenged to develop action plans and strategies to make those big dreams of yours a priority now—very likely requiring you to rethink and reallocate how you otherwise spend your valuable time, energy and resources.

Rewire.

You'll be challenged to isolate and then chip away at those mindsets and limiting beliefs that get in your way—rewiring your brain with a new set of empowering beliefs to replace nagging fears, doubts and insecurities.

Engage.

You'll be challenged to face up to the leadership behaviors that hold you back—practicing, mastering and modeling more effective strategies for engaging with and leading your team.

Succeed.

You'll be challenged to set clear benchmarks for measuring success—ensuring that you hold yourself, your team members and your peers accountable for delivery of desired results.
Quite simply—and regardless of the wealth of leadership strengths you already possess—you'll be challenged at every turn to become a better leader than you are today. At times, it will be more difficult than you imagine. Then suddenly, you'll start to see the benefits unfold.
"The Global Leaders Fellowship is designed as a way to give back to the global nonprofit community I serve. My hope is that over the course of their careers these young leaders will have many opportunities to pay it forward, influencing hundreds—if not thousands—of other social sector leaders around the world. That's a powerful force for change."
It's free!
There's no cost to you or your organization. NonprofitCoach™ understands that some of the most innovative and scalable social sector work is being done by small nonprofit and nongovernment organizations on the front lines—organizations without sufficient means or donor support to make significant investments in leadership development. The Global Leaders Fellowship was designed to fill this gap.
There are no travel or residency requirements. Unlike other fellowship programs which take you away from your day-to-day environment and responsibilities, the Global Leaders Fellowship allows you to develop within the context of your current organization and leadership role. Meetings take place virtually—via voice and video conferences—twice a month.
Here's what you'll receive as a Global Leaders Fellow:
One two-hour, one-on-one video coaching conversation and interview (for each finalist)

Six monthly private, one-on-one coaching sessions of approximately one hour, tailored to your individual leadership challenges and development goals

Six monthly group coaching sessions of approximately two hours, providing a safe, collaborative space for enhanced learning, challenge, and transformation together with your peers

A framework for weekly self-coaching, reflection and reporting—to hold you accountable to yourself, your coach and peers throughout the 6-month program

Access to a private social media forum to share successes and challenges, ask questions, seek feedback, and otherwise engage with your coach and peers throughout the 6-month program

Access to a private social media forum for ongoing engagement with Global Leaders Fellowship alumni following the 6-month program

The Global Leaders Fellowship toolkit—stock full of the resources you'll need to develop a custom leadership development plan and monitor your progress in achieving it

A charter NonprofitCoach™ subscription for immediate, members-only access as soon as they're published to additional leadership resources developed exclusively for current and emerging nonprofit leaders
Eligibility & Selection Criteria
New or Emerging Nonprofit Executive

This is a mid-to-senior level professional program intended for new and emerging nonprofit and NGO executives, between 25 and 35 years of age, who have already established a solid record of accomplishment within their communities, careers and organizations. Preference will be given to: a) new nonprofit/NGO executives (founder, chief executive officer, president, executive director, etc.) with less than two years in current role and 2) aspiring nonprofit/NGO leaders with at least three years of management experience.

English Proficiency

To be able to participate fully in this program, fellows must demonstrate during the application and interview process that they are fully conversant in English.

Diversity

This program is designed to create a global fellowship of nonprofit/NGO leaders. Each class is intended to include leaders whose work addresses a range of organizational and social aims (education, economic development, humanitarian aid, conservation, etc.), to have no more than one recipient from any country, and to represent diversity in race, gender, etc. Eligible applicants not selected for this class may be invited to participate in a future class.

Participation

Group interaction and accountability are important elements of the fellowship program. Recipients must be able to participate fully in all components of the program—joining scheduled individual and group calls, completing an individual leadership development plan, being accountable for working towards self-initiated development priorities, etc. An interest in ongoing engagement and networking with other fellowship recipients is also expected.

Merit

Award decisions will be based primarily on merit. Successful applicants must demonstrate through past accomplishment, educational and career advancement, professional references, and the interview process that they are committed to their own leadership transformation, to a career in social sector leadership, and to making their dreams for a better world come true.

Financial Need

Award decisions will also be based on financial need. The fellowship is intended to serve young leaders representing nonprofit organizations without sufficient means or donor support to make significant investments in leadership development.
Important Dates
2022 Class
Program Term: 6 months
Program Schedule: January 1 - June 30, 2022
Applications Open: October 1, 2021
Application Deadline: October 24, 2021
Professional Recommendations Deadline: October 31, 2021
Finalist Notification: November 19, 2021
Fellowship Award Notification: December 1, 2021
Application & Selection Process
Application: Submit the online Application by the October 24, 2021 deadline. In addition to completing the online application form, you will be required to provide a link to a 3-5 minute video responding to the self-guided interview questions provided with the application. (This should be a video of you speaking; it should not include other video, graphic or audio elements.) Applications are considered on a rolling basis; you are encouraged to apply as soon as possible. If you are unable to participate in the upcoming class and would like to be notified of application deadlines for future programs, please Subscribe to the NonprofitCoach™ mailing list.
Professional Recommendations: Following receipt of your Application, you will be sent an email with instructions to share with your professional references so that they may submit recommendations (describing your professional experience and potential for success in the Global Leaders Fellowship program) in support of your application. Your references will be required to use our online form to provide their recommendations and contact information so that these references may be verified. Two recommendations must be received by the October 31, 2021 deadline.
Finalist Notification: If you are selected as a finalist, you will receive email notification inviting you to a 30 minute interview. You will be required to respond to the scheduling request within three days.
Fellowship Award Notification: Fellowship recipients will be notified via email and provided further instructions. All applicants will receive an announcement of fellowship recipients.
NonprofitCoach™ reserves the right to modify the selection process, criteria and timeline as necessary in response to application volume, unforeseen scheduling conflicts, etc.
If you have general questions about leadership coaching, you may first wish to visit Q&A for answers to the top 10 questions nonprofit executives and emerging leaders ask about leadership coaching. If you have more specific questions about NonprofitCoach™ or the Global Leaders Fellowship, please visit Contact to get in touch.